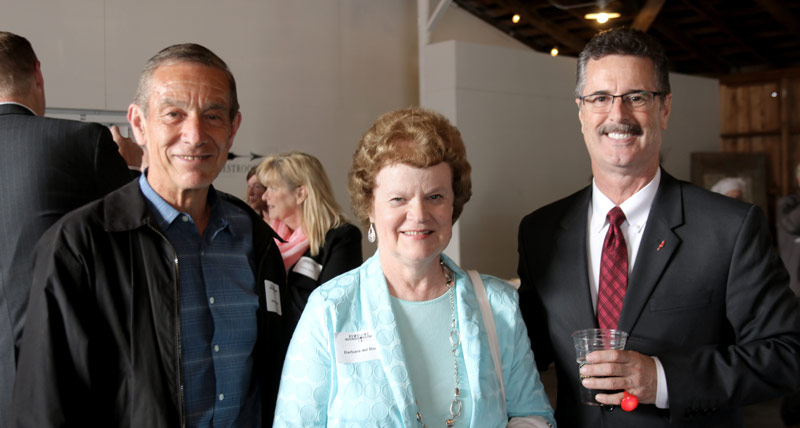 Jess and Barbara del Bosque with Dr. Tom Keegan at the Removing Barriers Campaign launch.
Removing Barriers Campaign Kickoff—A Huge Success!
What a wonderful gathering of so many donors, supporters, and friends of Skagit Valley College and SVC Foundation! THANK YOU for those who joined us at the public launch of SVC Foundation's Removing Barriers Campaign on May 19th! We are so appreciative of the generosity that evening — we raised another $138,895 — all in support of SVC students! The Removing Barriers Campaign has now reached an impressive $2.66 million of our $3 million goal!
With the beautiful setting of Maplehurst Farm in Mount Vernon, it was a casual evening to enjoy delicious hors d'oeuvres prepared by students in SVC's Culinary Arts, Sustainable Agriculture, and Craft Brewing Academy programs. And, it was a special time to mingle with longtime friends and make new acquaintances! Thank you for taking time to join us and for making the evening so special!
As you know, the Removing Barriers campaign began two and a half years ago, with the incredible generosity of many, many friends throughout the community who stepped up to support student success. Our second phase took place during the month of March when SVC employees stepped forward to support the Campaign, pledging nearly $44k! With your ongoing support, we know we will reach — and exceed — our $3 million goal!
Again, thank you for joining SVC Foundation's Removing Barriers Campaign. With your continued support, we will transform the lives of students in our community for years to come. To learn more and support student success at SVC, please visit: Give Now >
In addition, we were thrilled that the May 23 edition of the Skagit Valley Herald featured the kickoff celebration on the front page! Read the full article online now >
To view photos from the evening, please view our Photo Gallery.
Thank you!
Anne Clark
Executive Director of College Advancement and SVC Foundation