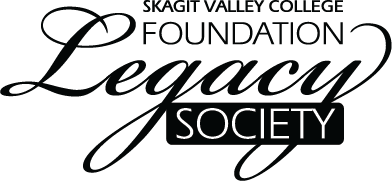 The Skagit Valley College Foundation Legacy Society recognizes donors who have committed to provide gifts through their estate plans or other planned giving options. Recognition of Legacy Society members in publications inspires others to support Skagit Valley College with a planned gift.
Providing Opportunities, Realizing Dreams
We invite you to join other Legacy Society members who have made a lasting commitment to Skagit Valley College. The SVC Foundation confidentially works with you and your advisers to determine a gift plan that best fits your charitable interests, family needs and financial situation.
If your estate plan already includes a commitment to Skagit Valley College Foundation and you have not notified us, please let us know so that we may say thank you by including you in special events and activities.
Legacy Society Members
Receive recognition as a Legacy Society member in SVC Foundation publications, if desired
Receive special invitations to SVC Foundation events
Leave a legacy for future generations of sudents that helps to provide opportunities and realizes dreams
You can direct gifts by naming the Skagit Valley College Foundation in your Will or Living Trust, or as a beneficiary of your Life Insurance or Retirement plans. You may also give by creating a Charitable Remainder Trust or other types of planned gifts.
If you would like more information, please contact the Foundation staff at 360-416-7717.